What's up, everyone? I'm Henry from Santa Clarita Auto Sound. Today I will show you how to update the software on your Pioneer radio. We have the DMH-WT7600NEX today, which will also work with most of the new NEX Wireless models.
Updating Pioneer Firmware NEX Models Using the USB Method(video)
Items Needed for the Firmware Update
To perform this firmware update, you will need the following items:
Pioneer In-Dash AV Receiver
Blank USB storage device (no files), 512 MB or larger in capacity, formatted to FAT32 or NTFS.
Checking the firmware version
Check whether the firmware of your unit needs to be updated by checking the version number of the firmware.
Procedure:
Touch the following key.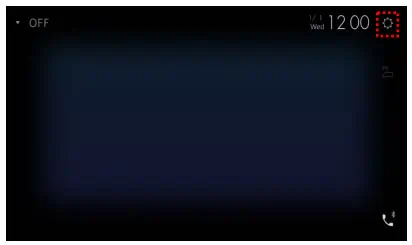 The "System" screen appears
Scroll down the list and touch [System Information].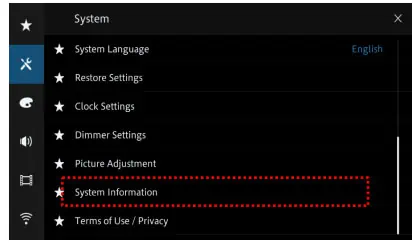 Touch [Firmware information].
After the "Firmware Information" screen appears, check the firmware version number and model
name.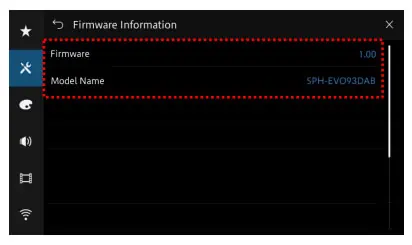 Preparing the USB Stick
First, download the update file from the Pioneer website onto a USB stick.
Connecting the USB Stick to the Radio
Use the original USB port on your radio to connect the USB stick with the update file.
Accessing the Update Settings on Your Radio
Go to Settings.
Click on the gear icon.
Scroll down to "System Information."
Select "System Update."
Updating the Software Using the USB Stick
Choose the USB option for the update and continue. The radio will read the USB stick and check if the update file is present.
This will be the Pioneer 3.0 update, which adds many features and fixes several bugs.
Download the full instructions in PDF format
New Features and Improvements in the Firmware Update
This firmware update adds several new features and improvements to your Pioneer NEX Wireless model car radio, including:
Amazon Alexa New Functions*
Added Spotify music service.
Added new Alexa language support for Spanish (Mexico), Portuguese (Brazil), and Hindi (India).
Multi-Camera System Support for Datalink
The update allows for Multi-Camera System support with Datalink integration.
Metra Axxess Display on Home Screen Widget
With this update, the Metra Axxess display is now available as a widget on the home screen.
Other Improvements
The firmware update also includes various other improvements and bug fixes.
Alternative Update Method: Car AV Assist
You can also update your radio using the Car AV Assist app on your phone. Connect your phone to the radio via Wi-Fi and Bluetooth, and you can download the update through the app. This method doesn't require a USB stick, but some users might find the USB method quicker and more reliable.
Compatible Pioneer Models
This update will work with most Pioneer NEX models. Here are a few that you can order online from Santa Clarita Autosound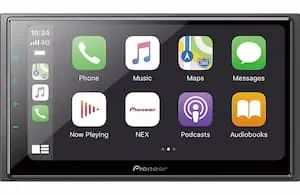 The Pioneer DMH-W4600NEX is a multimedia receiver with a 6.8-inch touchscreen, wireless Apple CarPlay and Android Auto, Amazon Alexa compatibility, and Bluetooth connectivity.
It offers a customizable, user-friendly interface and supports various audio formats for a superior in-car entertainment experience.
DMH-W466ONEX
DMH-WT76NEX
DMH-WT86NEX
Benefits of Updating Your Radio
Updating your radio's software will improve its Apple CarPlay and Android Auto functionality and fix various bugs. The process only takes a few minutes and is worth it.
The Unique Features of Pioneer NEX Wireless Models
Pioneer has long been a leader in the car audio and entertainment industry. Their NEX (Networked Entertainment eXperience) wireless models have taken in-car entertainment to a whole new level.
Let's explore the unique features of these models that set them apart from the competition.
User-friendly Interface
Innovative Touchscreen Display
One of the most striking features of the Pioneer NEX wireless models is their innovative touchscreen display. The large, high-resolution screens provide users with an easy-to-navigate interface that makes accessing and controlling the various features a breeze. This touchscreen technology ensures a smooth and enjoyable user experience.
Customizable Home Screen
The customizable home screen lets users personalize their in-car entertainment experience by selecting their favorite apps and widgets for quick access. With this feature, users can tailor their home screen according to their preferences, ensuring a more convenient and efficient interaction with the system.
Advanced Connectivity
Wireless Apple CarPlay and Android Auto
Pioneer NEX wireless models come equipped with wireless Apple CarPlay and Android Auto integration. This allows users to connect their smartphones to the system without the need for a physical cable, providing a seamless and hassle-free connection. This wireless feature allows users to access their favorite apps, make phone calls, send text messages, and more, all while keeping their eyes on the road and hands on the wheel.
Bluetooth Connectivity
In addition to wireless Apple CarPlay and Android Auto, Pioneer NEX wireless models also offer Bluetooth connectivity. This allows users to connect their devices for hands-free calling and audio streaming, ensuring a safer driving experience.
High-quality Audio Performance
Superior Sound Quality
Pioneer NEX wireless models are designed to deliver high-quality audio performance. With their built-in amplifiers, advanced sound processing technologies, and customizable audio settings, users can enjoy a rich and immersive listening experience.
Compatibility with Various Audio Formats
These models support a wide range of audio formats, including MP3, WMA, AAC, WAV, FLAC, and more. This ensures that users can enjoy their favorite music in the highest possible quality, regardless of the format.
Enhanced Navigation Features
Built-in GPS Navigation
Some Pioneer NEX wireless models have built-in GPS navigation, providing users with accurate and up-to-date directions. The system offers features such as voice-guided turn-by-turn directions, 3D mapping, and points of interest, ensuring a smooth and efficient navigation experience.
Traffic Information and Updates
The navigation system also provides real-time traffic information and updates, helping users avoid traffic jams and find the fastest routes to their destinations.
Conclusion
Pioneer NEX wireless models offer a range of unique features that set them apart from the competition. With their user-friendly interface, advanced connectivity options, high-quality audio performance, and enhanced navigation features, these models provide users with a superior in-car entertainment experience.
Upgrade Your Car Radio Today
Don't wait any longer to enhance your driving experience with the best Pioneer car radios. Visit Santa Clarita Autosound store in California for expert assistance and installation services.
Alternatively, you can browse our wide range of Pioneer car radios and order online at https://shop.santaclaritaautosound.com/collections/car-stereo-receivers/brand_pioneer Get ready to enjoy improved functionality and exceptional audio quality in your vehicle!