If you're the proud owner of a Chevrolet Silverado, you know that it's a great truck. But did you know that you can upgrade your head unit and enjoy even better sound quality?
This blog post will show you how to do just that. You'll be amazed at the difference a custom stereo head unit can make in your Silverado. So read on and learn how to take your music listening experience to the next level. Thanks for being a Chevy Silverado fan!

Why upgrade your head unit in the first place – better sound quality, more features, etc?
Upgrading the head unit of a Chevrolet Silverado is a proven way to enhance your daily driving experience. Not only does it result in improved audio quality and the addition of many handy features which are found in more modern vehicles, but there is also the added perk of making your truck look even more stylish.
With an updated head unit, you can stay connected with hands-free calling, sync up your phone and favorite music apps, and enjoy higher-fidelity sound on every drive. Put these benefits and more at your fingertips, upgrading your Chevrolet Silverado's head unit today should be at the top of your to-do list!
What you need to know before purchasing a new head unit – research, compatibility, etc.
Purchasing a new head unit for your Chevy Silverado 2014-2018 can be a daunting task. Not all units are compatible with the vehicle and certain features may not work correctly. It is important to do your research before making a purchase.
Consider various features such as sound quality and Bluetooth compatibility, while also looking into the manufacturer's reputation.
One of the best options specifically designed for a Chevy Silverado 2014-2018 is LinksWell TS-GMPU12-1RR-5B, which fits perfectly on your dashboard and has been known to provide excellent performance and stability with various features like the ability to retain steering wheel controls and factory specs.
Be sure to read reviews, check compatibility listings and consult an expert before making a purchase. This will ensure that you make the best decision when selecting your new head unit.
The installation process for a Chevy Silverado 2014-2018 audio head unit
Installing a Chevy Silverado 2014-2018 audio head unit can be simplified with the right tools and preparation. Before beginning, make sure to have the right screws and parts available.
Once everything is ready, start by disassembling the dash assembly as noted in your instruction manual. After taking out the existing audio head unit, install the mounting kit for the new one.
Following that, you should put it back into place before plugging in all plugs to their designated spots. To finish off, calibrate the settings with your vehicle system to ensure proper operation of all components.
With some extra patience and care, this easy-to-follow installation process should leave you feeling confident about having successfully upgraded your audio system!
Overview of popular head units on the market and which one is right for you
When it comes to selecting the right head unit for your vehicle, there is a vast selection of choices available.
From sleek and sophisticated decks offering access to high-tech features such as adaptive cruise control, Bluetooth connectivity, and Apple CarPlay, to simpler alternatives that are designed to deliver a reliable sound experience, shoppers have options.
If you're looking for the convenience of controlling music from your smartphone or want to gain access to internet radio services like Pandora and Spotify, then you'll likely be best served by investing in a feature-rich unit, although keep in mind that these may also come with a heftier price tag.
Given the massive array of styles and levels of integration, it's important to consider which features are important to you before making an informed decision on what type of head unit would work best for you.
Tips and tricks for getting the most out of your new head unit
If you own a Chevy Silverado from 2014-2018 and have recently installed a new head unit, the possibilities are seemingly endless. To get the most from your new audio powerhouse, start by planning out what kind of sound system you'd like to create.
Consider not only the components like speakers and amps but also how they will be connected, mounted, wired, and laid out in terms of location. When in doubt, trust your Chevy Silverado's wiring instructions, they could prevent potentially costly mistakes as you install other parts to optimize your setup.
It'll also help if users regularly run maintenance checks on their head unit and switch off their car's pre-amp boosters before turning off the car itself.
From managing amp gains correctly to taking full advantage of its features, there is no shortage of tips and tricks for getting the most out of your Chevy Silverado's new head unit.
Say Goodbye To Boring Car Rides and Hello To an Upgraded Sound System With A Custom Stereo Head Unit On Your Chevy Silverado 2014-2018
Now that you know more about head units and why it's important to upgrade from your factory default, as well as what to look for when purchasing a new one, you can make an informed decision on which system is right for your needs.
If after reading this article you're interested in the LinksWell TS-GMPU12-1RR-5B model, we suggest ordering it directly from our website or contacting one of our experts at Santa Clarita AutoSound who can help walk you through the installation process specific to your Chevy Silverado 2014-2018 model.
With suggestions from our experts, you'll be able to get the most out of your new head unit in no time!
Introducing the Linkswell TS-GMPU12-1RR-5B: The Ultimate In-Vehicle Entertainment System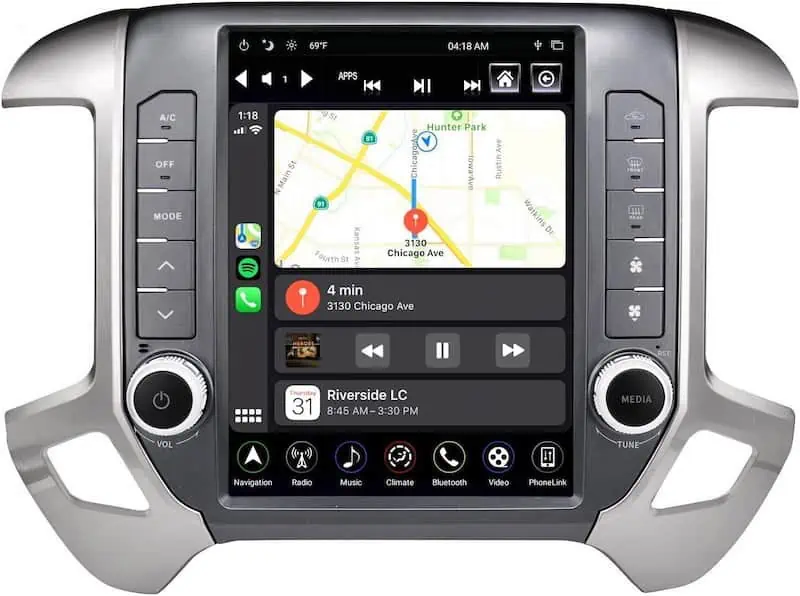 The Linkswell TS-GMPU12-1RR-5B is the latest and greatest in-vehicle entertainment system on the market. This state-of-the-art system is designed to bring your driving experience to the next level. With its advanced features, sleek design, and top-notch performance, the Linkswell TS-GMPU12-1RR-5B is the perfect choice for anyone looking to upgrade their Silverado audio and entertainment capabilities.
Features
The Linkswell TS-GMPU12-1RR-5B is packed with features that will make your driving experience more enjoyable. Some of the key features include:
12.1-inch HD capacitive touchscreen display
Android operating system with built-in GPS navigation
Bluetooth connectivity for hands-free calling and wireless audio streaming
Built-in WiFi for easy internet access
Rearview camera input for added safety and convenience
Multiple USB and HDMI inputs for connecting external devices
High-quality audio output with built-in equalizer and DSP
Design
The Linkswell TS-GMPU12-1RR-5B is designed to integrate into your vehicle's dash seamlessly. Its sleek and modern design will complement any car's interior. The 12.1-inch HD capacitive touchscreen display is crystal clear and easy to use, making it easy to navigate through the system's various functions.
Performance
The Linkswell TS-GMPU12-1RR-5B delivers top-notch performance, thanks to its advanced technology and features. The built-in GPS navigation system provides accurate and reliable directions, while the Bluetooth connectivity allows you to easily make hands-free calls and stream audio wirelessly. The built-in WiFi provides easy internet access, so you can stay connected on the go.
Rear View Camera Integration
One of the most useful features of the Linkswell TS-GMPU12-1RR-5B is its rear-view camera integration. This feature allows you to easily connect a rearview camera to your system, providing a clear and wide-angled view of what's behind you. This is especially useful when reversing or parking in tight spaces. This feature can also be integrated with other features such as parking assist, blind spot detection, and lane departure warning to enhance safety and convenience.
High-quality audio output
The Linkswell TS-GMPU12-1RR-5B also offers high-quality audio output. The built-in equalizer and DSP (Digital Signal Processing) allow you to adjust the sound to your preferences and the sound quality is optimized for the car's acoustics. This will give you an enhanced listening experience, whether you're listening to music, podcasts, or even watching videos.
Conclusion
Overall, the Linkswell TS-GMPU12-1RR-5B is a high-quality in-vehicle entertainment system that offers a wide range of features and advanced technology to enhance your driving experience. With its sleek design, advanced features, and top-notch performance, the Linkswell TS-GMPU12-1RR-5B is the perfect choice for Chevrolet Silverado owners looking to upgrade their car's audio and entertainment system.